Due to the rise of digitalization and hybrid work culture in various sectors and industries around the world, organizations have now started to focus on their evident goals, alignment, and transparency. Indeed, there is a huge demand for implementing OKRs in many organizations. Large companies from Intel to Google, Adobe, and Amazon have been implementing OKRs to keep their teams focused and aligned on the correct goals.
OKR software or OKR goal management software assists individuals to track their professional and personal goals by handling their tasks effectively. It also assists individuals to become organized, setting their due dates, and getting things completed. If you have plans to implement OKRs for your organization, first you should understand the OKR (objectives and key results) framework and should be able to find out the right OKR software, which makes the implementation process smooth.
When expecting the best OKR application, there are a lot of choices for you. Finding a good OKR product for your organization is not a simple task. We are here to help you with that. Most organizations are not aware of what things to consider and often they find problems after applying for a new OKR application. To assist you to select the best OKR software, we have hand-picked some top 15 OKR management applications for this year based on the following standards.
Understanding OKRs
Why do you need OKR software? 
OKR [Objectives and Key Results] software is used to help organizations effectively set, track, and manage their goals and objectives. While it's not an absolute necessity for all organizations, there are several reasons why many companies choose to use OKR software. Some of them are Alignment, Clarity, Visibility, Frequent Updates, Data Analysis, Collaboration, Remote Work, Scale, Automation, Customization, Integration, Measurement and Tracking.
Benefits of OKR Software 
OKR software offers several benefits to organizations looking to implement and manage the OKR framework effectively. Some of the key benefits are Centralized Platform, Alignment, Transparency, Real-time, Tracking, Regular Check-ins, Data-driven Insights, Efficiency, Customization, Collaboration, Goal Flexibility, Remote Work Enablement, Integration, Scalability & Employee Engagement.
OKR Software Statistics 
Some general insights for OKR statistics are:
Adoption Growth: OKR software adoption has been on the rise due to the increasing recognition of the benefits of the OKR framework in promoting alignment and focus within organizations.
Remote Work Impact: The COVID-19 pandemic highlighted the importance of tools like OKR software for remote work collaboration, as organizations sought ways to maintain goal alignment and visibility despite distributed teams.
Integration with Other Tools: OKR software providers were increasingly focusing on integrations with popular collaboration tools like Slack, Microsoft 365, and Jira to enhance cross-platform functionality.
Customization and Flexibility: Many OKR software platforms were emphasizing customization options to cater to various organizational structures and workflows.
Analytics and Insights: OKR software was expanding its analytical capabilities, offering insights into performance trends, progress tracking, and goal attainment rates.
Industry-Specific Solutions: Some OKR software providers were tailoring their offerings to specific industries, recognizing that different sectors have unique needs and terminologies.
User Experience: Usability and user experience were becoming more critical, as organizations sought intuitive interfaces to encourage employee engagement with the OKR process.
OKR Software Insights 2023
1) OKRs help in increasing the ROI of a product, project, and people. It can improve the ROI by 10 to 15% when people have alignment and priorities clearly defined. (datalligence.ai)
2) OKR Software Market size was valued at USD 923.31 Million in 2022 and is projected to reach USD 2,588.90 Million by 2030, growing at a CAGR of 13.68% from 2023 to 2030. (verifiedmarketresearch.com)
3) Employee engagement is high while implementing OKRs and that directly contributes to the increase in productivity minimum by 21% (datalligence.ai)
4) OKR helps in aligning the employee's goals with organizational goals and objectives. Highly aligned organizations grow their revenue 58% faster and are 72% more profitable than unaligned organizations. (datalligence.ai)
5) OKR enables clarity and vision. Organizations with a high level of clarity around their goals are most likely to be 4X in the top quartile of their industry. (datalligence.ai)
6) OKRs create a highly engaged environment and companies see an average of 30% increase in their year-on-year growth (datalligence.ai)
Expert Advice – Market Trends of OKR Software
Increased Adoption: OKR software adoption has been growing steadily as organizations recognize the value of structured goal-setting frameworks in driving alignment and performance.
Remote Work Emphasis: The rise of remote and hybrid work arrangements has underscored the need for digital tools like OKR software to maintain collaboration and goal alignment across dispersed teams.
Integration Ecosystems: OKR software providers were working on expanding their integrations with other productivity tools, such as project management platforms, communication tools, and business intelligence solutions.
Focus on Analytics: As organizations sought to measure and analyze their performance more effectively, OKR software was incorporating advanced analytics and reporting features to provide insights into goal progress and overall performance trends.
User-Centric Design: Software providers were putting more emphasis on user experience, making their platforms more intuitive and user-friendly to encourage widespread adoption and engagement.
Customization and Scalability: OKR software was offering more customization options, allowing organizations to tailor the framework to their unique needs and scale it across departments and teams.
Industry-Specific Solutions: Some providers were targeting specific industries, understanding that certain sectors require tailored features and language to effectively implement OKRs.
Continuous Feedback: OKR software integrated features for continuous feedback and performance discussions, enabling ongoing coaching and development.
AI and Automation: There was an emerging interest in incorporating AI and automation to streamline tasks like progress tracking, reminders, and data analysis within OKR software.
Professional Services: Some software providers were offering professional services such as training, consulting, and support to help organizations successfully implement the OKR methodology.
Data Security and Privacy: With increasing data concerns, OKR software developers were enhancing security measures to protect sensitive organizational and performance data.

OKR Spreadsheet Vs OKR Software 
Both OKR spreadsheets and OKR software serve the purpose of implementing the Objectives and Key Results framework, but they differ in terms of features, ease of use, collaboration, scalability, and overall effectiveness. Here's a comparison between OKR spreadsheets and OKR software:
OKR Spreadsheets
Low Cost: Spreadsheets like Microsoft Excel or Google Sheets are widely available and often come at no additional cost.
Familiarity: Many employees are familiar with using spreadsheets, which can make the initial adoption easier.
Basic Tracking: Spreadsheets can be used to create a basic structure for setting and tracking objectives and key results.
Limited Automation: While you can manually input and update OKR data, spreadsheets lack the automated reminders and progress calculations that software may provide.
Individual Ownership: Spreadsheets are often managed by individual team members, which can lead to siloed information and difficulty in aggregating data at the organizational level.
Collaboration Challenges: Collaboration on spreadsheets can lead to version control issues, especially in larger teams.
OKR Software
Enhanced Features: OKR software offers features such as automated progress tracking, reminders, real-time updates, dashboards, and data analytics.
Alignment and Cascading: Software allows for cascading objectives from company-level to individual goals, ensuring alignment throughout the organization.
Transparency: OKR software provides visibility into progress for team members, fostering accountability and a sense of shared responsibility.
Collaboration: Many OKR software platforms include collaboration features, allowing teams to work together on objectives, comment, and share updates in real-time.
Scalability: As organizations grow, managing OKRs via spreadsheets can become unwieldy. Software offers scalability to manage OKRs across various teams and departments.
Customization: OKR software often allows for customization to align with an organization's specific processes and terminology.
Integration: Software can be integrated with other tools such as project management, communication, and analytics platforms.
Analytics: OKR software typically provides analytics and insights to help organizations evaluate performance trends and make data-driven decisions.
Ease of Reporting: Software makes reporting on progress and achievements more streamlined, reducing the effort required to compile and present data.
Remote Work Support: As remote work becomes more common, OKR software facilitates collaboration among distributed teams.
The Best OKR Management Software Selection Criteria
Here, you can learn how to select the suitable OKR application from the best 15 vendors agreeing on the below-given standards.
Features
Look for the OKR software that has good user experience, mandatory options to clearly define OKR types as committed / aspirational OKR, set priorities, accurate OKR settings, progress indicators, status, unique features, team collaborations, analytics reporting, etc. Also, make sure the OKR system is not linked with your performance management system so that the OKR implementation helps your organization grow.
If the OKR system is integrated with performance management then you will not see much benefit from implementing OKRs. In the starting stages of OKR implementation, most of the teams struggle to define their OKRs, if the software support with AI-enabled OKR suggestion features, it will be a great help for your teams to join the OKR journey. If not, then at least check for the OKR template option in the OKR Software before selecting. 
Selecting The Right Metric
Selecting a correct metric in key results is a mandatory requirement and it's important that OKR software has a predefined set of metrics. It should have the option to add custom metrics at the organizational level to measure the respective key results.
Tracking & Reporting
Find out how you can use the OKR application to track and report based on various use cases, metrics, automated updates, results, real-time dashboards, notifications, customization options, and automated reporting procedures. 
User Capacity
Find out the team size as it is one of the most significant criteria while selecting an OKR application. Each application addresses and manages the requirements and dynamics of various team capacities. 
User Experience
An OKR application should be simple for navigation, and it should feature an easy design. You should be able to get what you require effectively and quickly by learning how all features function. Look out for a software product that provides easy usability, onboarding features, and an attractive and clear interface.
Data Protection & Security
OKR software will carry the strategic goals of an organization and its security plays a very critical role here so it should be protected and secured from hackers, and it should be protected from dangerous threats. An OKR application should have a two-factor authentication process and secured login credentials to protect your information against cyber criminals. It should be a GDPR complaint.
Integrations
Look for an OKR application that integrates with your existing stack of software applications. Check for native integrations, Zapier, or API-based integrations. 
User Support
An expert customer support team will help you to get started with your new application very soon. The OKR service-providing organization should deliver more support options that involve email, phone, and live chat support. This is essential as it will help you to get the results you need without any delay. 
Price Benefits
Find out the OKR application that is relevant for long-term investment and the cost depends on all the above-mentioned factors. 
Before purchasing the best OKR software for your team or organization, try a free product trial or a guided demo to learn how a particular OKR technology suits your requirements. If the OKR concept is entirely new for your organization, you should get OKR coaching and check whether the OKR framework is well-suited for your organization.
What Are The 15 Best OKR Software?
The 15 best OKR management software are compared below using the country of origin, key features, pros & cons, best suitability, and pricing. Let's discuss them one by one. 
10XWinners.com
10XWinners OKR is the newly established AI-enabled OKR software that figures out the trouble in implementing and executing organization strategies by intelligently handling your applied OKRs. It is the 1st OKR system that uses Chat GPT in the OKR Platform. It focuses on vision alignment across the organization, which helps leaders to achieve strategic goals faster. It is the most effective OKR management application that assists teams and users to collaborate with their company OKRs to attain business goals 10x faster.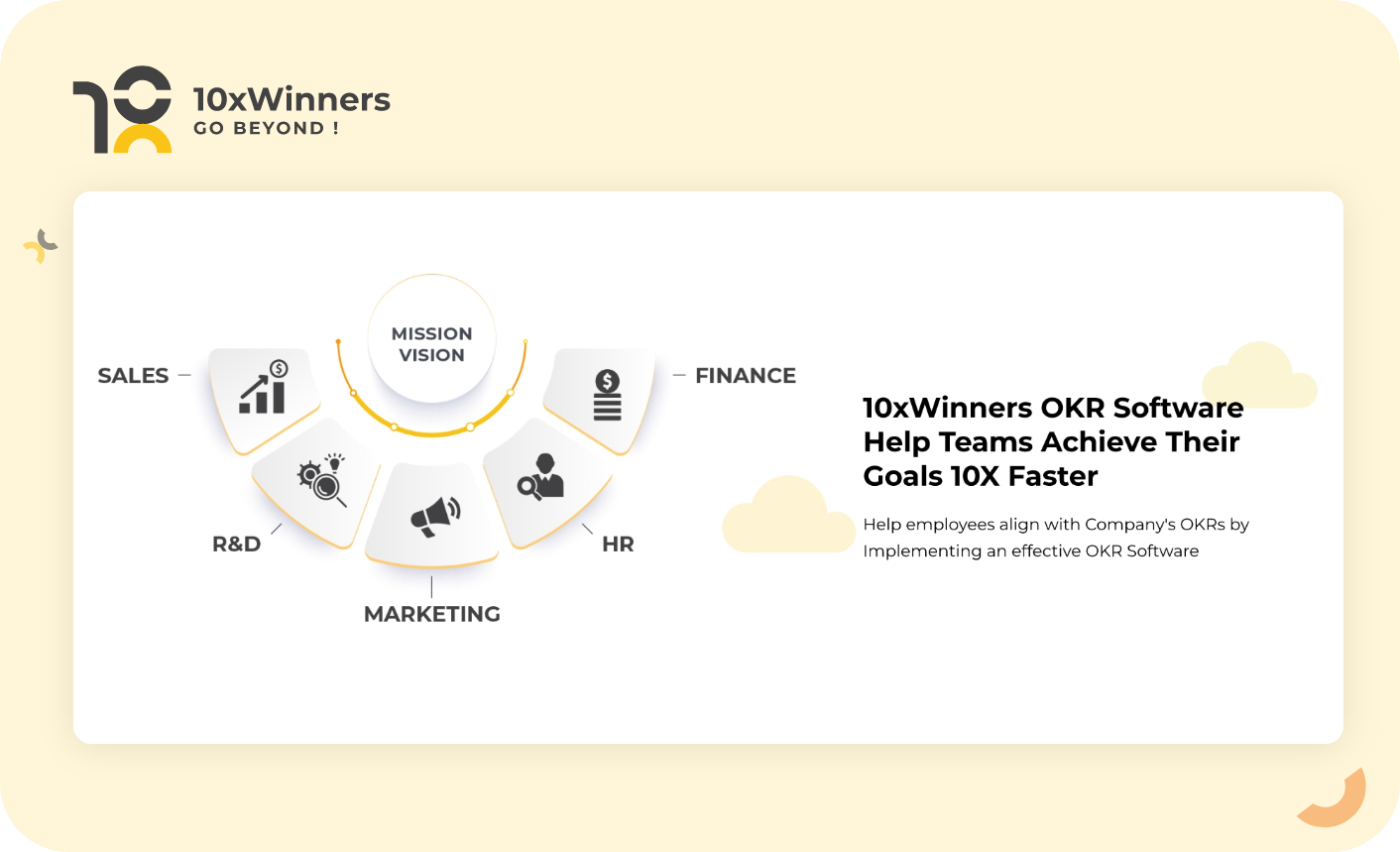 10XWinners OKR has excellent features for an organization looking for an independent OKR system, which is not combined with the performance management system, is simple and easy to adopt, rich user experience, and contains a new set of features that are identified as a gap in the existing OKR systems, 24/7 customer support, and allows many integrations as well with reasonable prices and plans.
It's created for tracking and assessing functioning issues in larger and smaller organizations. This OKR software can resolve the primary issues in an organization's strategy, priority, alignment, accountability, and goal visibility. This application also assists you to track your vision and assign goals to achieve those goals. You can align all the OKRs applied with your organization's goals.
Organizations can stay informed on their all-goal accomplishments and their performance. By deploying this OKR software, all employees know exactly how they can bring up the organization's development and achieve the vision. 10xWinners is measurable and more transparent to all users of the organization. A 14-day free trial is also available for all kinds of plans in 10XWinners OKR.
Country of Origin 
United States of America
Key Features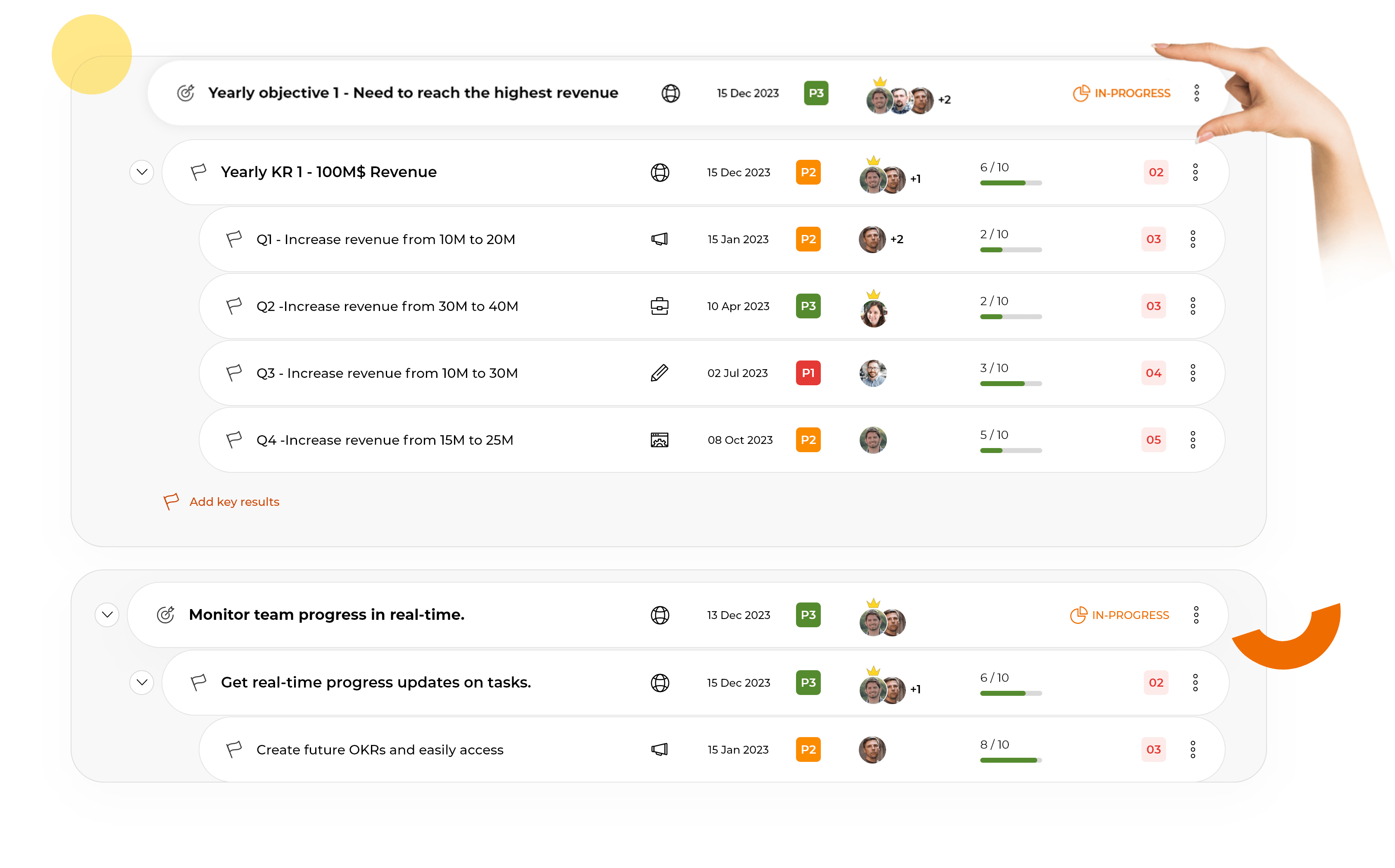 Vision alignment across the organization
Setting yearly OKRs and cascading them to quarterly KRs
Department OKRs with options for cascading
Linking Department OKRs to organization OKRs
Weekly check-ins and remainders
OKR hierarchy view
Predefined metrics and the option to set custom metrics
Unique Features
Yearly OKRs setting with all quarter tracking
AI-enabled OKR suggestions from ChatGPT
Option to set Committed or Aspirational OKRs
Option to set priorities for OKRs
Pros  
AI Enable OKR Software
Predefined templates
Custom metric option
Create multiple organizations
Linking OKRs with KRs
Easy to adapt simple & Easy UI
Rich user experience
Progress tracking using check-ins
Extensive remainder system
Custom business year selection
Easy self-onboarding
Cons 
Since it is a fresh new product in the market many integrations are in progress. You can expect more in upcoming releases. The team has committed to making a monthly release with new integrations.
Pricing 
$1 per user, which is awesome pricing for an AI-enabled OKR software when other vendors are charging 4-10X its price with fewer features.
For more pricing details view 10XWinners OKR pricing. 
Good For 
Small and medium organizations who are looking for simple OKR solutions without many integrations.

15Five.com 
15Five is an uninterrupted performance management product that aids employees develop and build in just 15 minutes every week. Employing a lightweight weekly check-in, this product offers all the things a manager requires to affect employee functions, involving 1 on 1's, continuous feedback, recognition, reviews, and OKR tracking. 15Five was developed to transform offices into spaces where people can become great.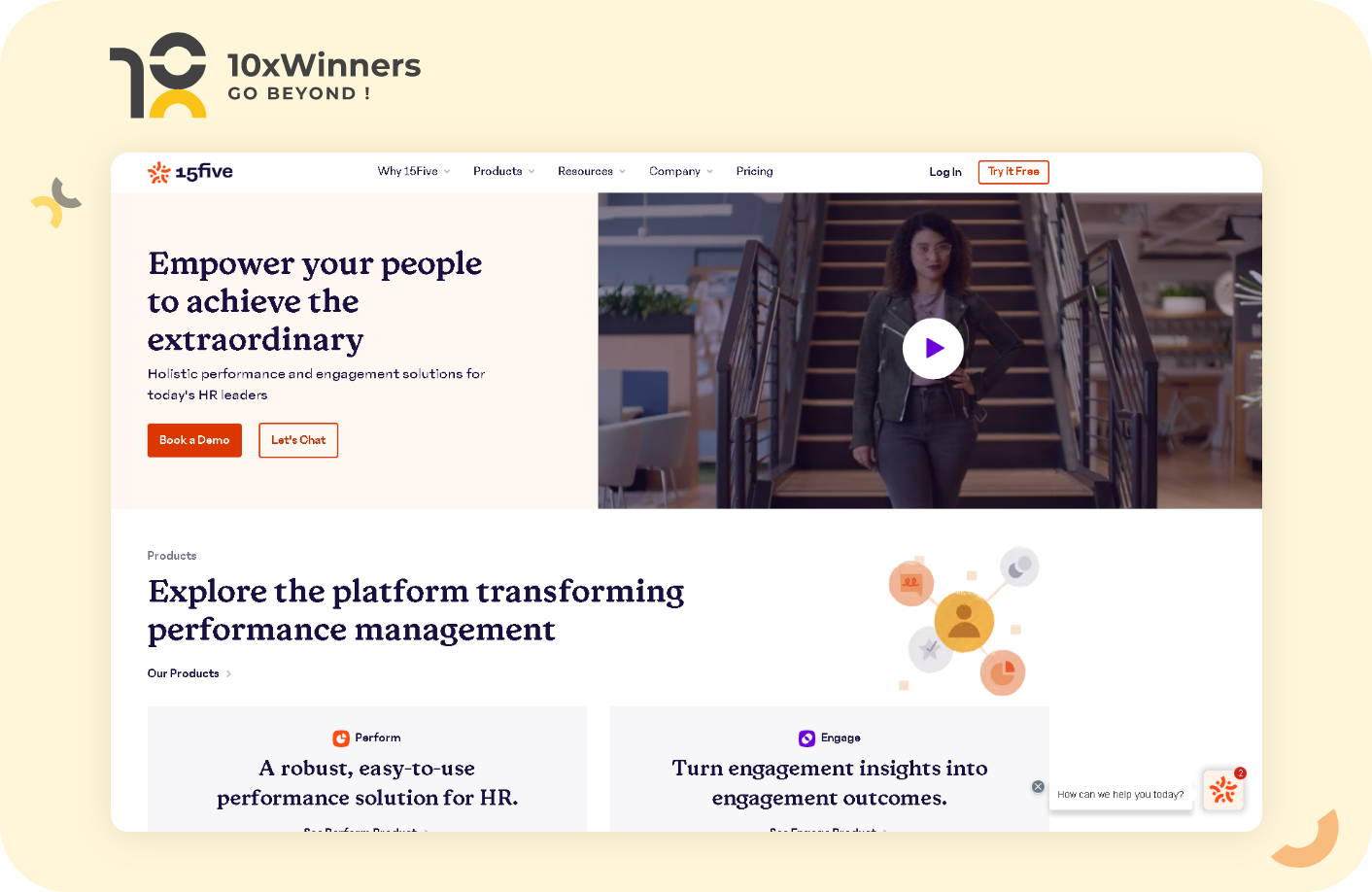 This OKR Software supports that vision by developing a product that helps managers to promote development by setting and supervising employee objectives and goals. The qualitative response and the resulting metrics then get the basement for managers to know how much guidance and support to render. The core and transparent communication of the product is the basic mechanism of all the top operating talent management systems.
Country of Origin
United States of America
Features
Customizable templates
Pulse surveys
Self-assessment
Goal tracking
Self-service portal
Combined with Performance tracking
360-degree tracking
Strategic planning
Peer appraisals
Review management
Pros 
Manager training
Coaching hub
OKR goal management
Employee performance management
Cons
OKRs with PMS, break the OKR concept
Limited OKR method goal setting
HR focused
Steep learning curve
Pricing
Engage Plan: $4/user/month
Perform Plan: $8/user/month
Focus Plan: $8/user/month
Total Platform: $14/user/month
Good For
Software engineers, customer success managers, computer and information technology services. 
Aha.io
Aha is a product development tool package that lets companies and teams grow and deliver winning products. This OKR software contains customizable and comprehensive tools in a single platform that easily integrates with other solutions as well. Aha's flexible and robust product development pro also provides an integrated package of tools.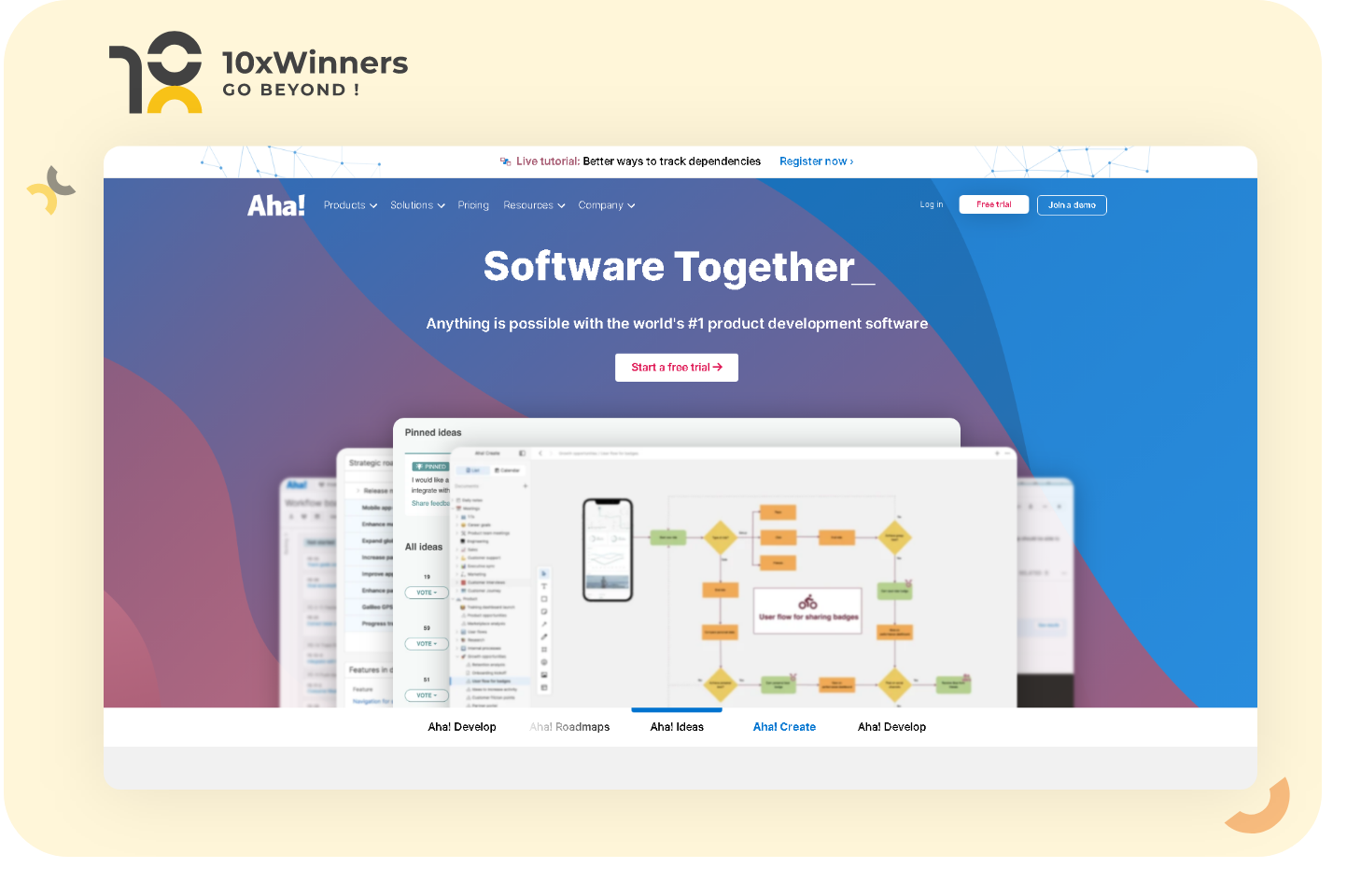 Scalable and standalone offerings deliver companies more alternatives in handling their product development cycle. The product features allow companies to centralize and streamline their functions to make product delivery better. Create custom methods to accommodate teams and unique workflows with flexibility.
Country of Origin
United States of America 
Features
Roadmap, Ideas, Develop and Create features help users to:
Develop a strategy
Collect ideas
Organize information
Visualize plans
Manage projects
Track progress
Optimize workload
Create presentations
Generate reports
Pros 
Great UI
Intuitive dashboard
Great customer support
Excellent graphics
Product roadmap
Cons
Steep learning curve
More hard-distinguished features
Confused development tasks
Pricing
Premium: $59.00/user/month
Enterprise: $99.00/user/month
Enterprise Plus: $149.00/user/month
Good For
Teams in product management, product operations, IT, project management, business operations, and marketing across different industries.

Ally.io – Microsoft Viva Goals 
Microsoft Viva Goals is a simple OKR software that helps organizations, startups, and teams to efficiently align, track and measure goals. It aligns strategic performances at scale as well. The product functionalities involve the power to see the alignment in the user team's development and learn the execution at all levels of the enterprise in real time.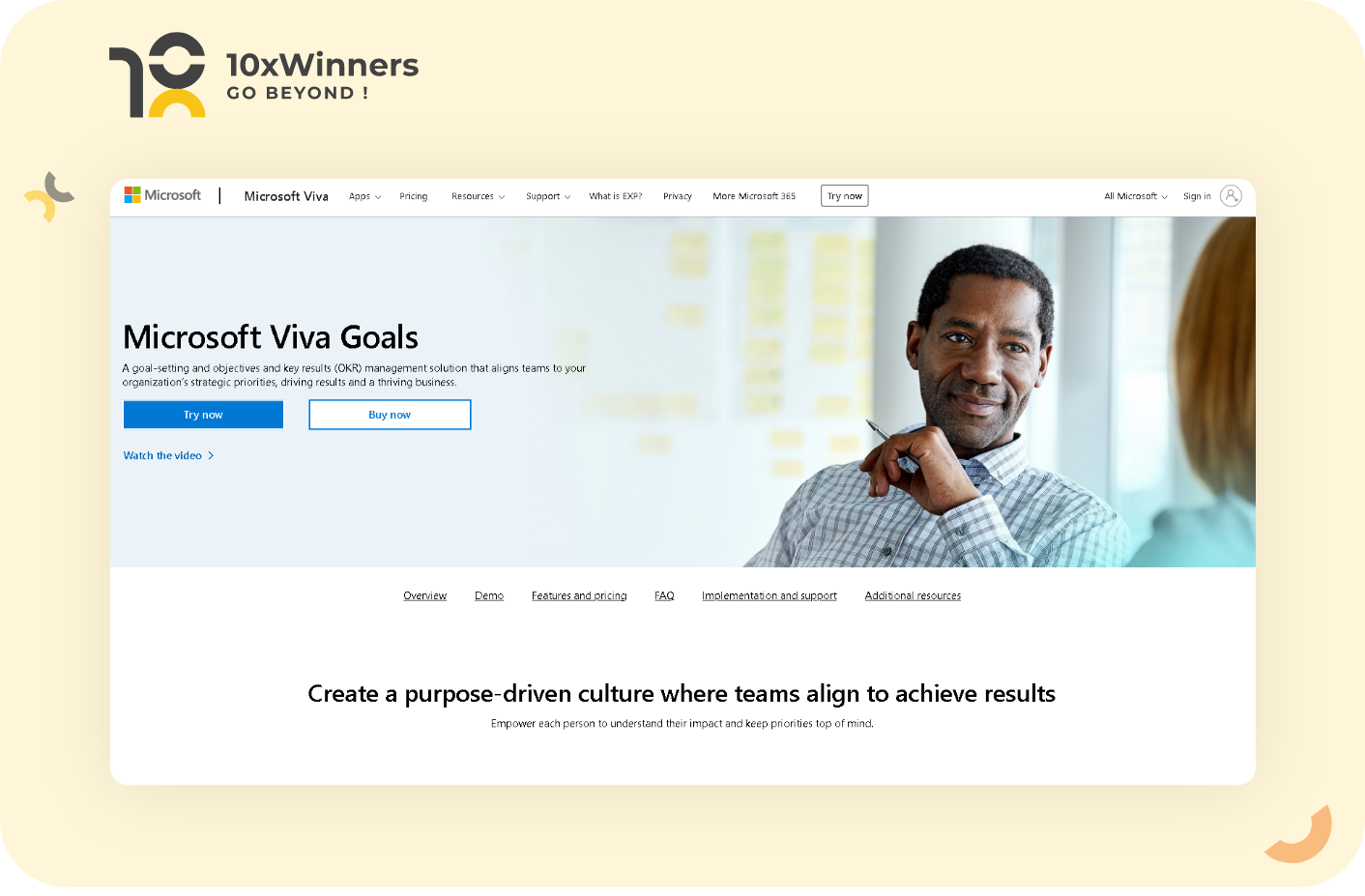 The OKRs can be managed through a workflow acceptance procedure. An individual can introduce OKR dependencies still. OKRs can then be distributed into committed or other suitable cloud hosting alternatives. Microsoft Viva Goals lets users integrate with top applications like Slack and Google Sheets.
This product delivers firm security with the support of its consistent third-party surveys, SOC 2 Type 2 docile understructure, and effective privacy standards. The security services are also General Data Protection Regulation (GDPR) Complaint. Moreover, Microsoft Viva Goals OKR software is available for mobile browsers and Android/iOS client applications, making it simple for users to test their OKRs rapidly.
Country of Origin 
United States of America 
Features 
Real-time progress tracking
Customizable dashboard
KPI monitoring
Strategic planning
Goal management
API integrated
Communication management
Dashboard
Charting
Customizable reports 
Pros
More integrations
A free trial is available
24/7 customer service
OKR Coaching 
Cons 
Little costlier than other products
No free trial
Little confusing OKR hierarchy
KRs don't drive top-level objective progress 
Pricing 
Growth plan: $7/month
Enterprise plan: Custom pricing 
Good For  
All business levels through all industry sizes.
Betterworks.com
Betterworks is one of the most popular and older OKR management software in the market. The interface appears a little old-fashioned and it combines other features of the product like performance management and employee surveys. It's particularly used for promoting accountability, transparency, and OKR management.
Betterworks is a function enablement software product that binds the loop between performance, strategy, and people across the organization that can focus and align on what counts the most. It is an enterprise SAAS-based platform for employee and OKR management. The product's focus is to aid large companies to accomplish their goals and to act as an all-in-one OKR software for HR employees.
Country Of Origin
United States of America 
Features
360 Degree Feedback
Track and view metrics
Performance management
Self-service portal
Reporting & Analytics
Anonymous Feedback
Activity Dashboard
Ad hoc analysis
Charting
API
Pros 
Delivers performance management solutions
Supports documentation
Feedback options  
Cons 
OKRs with a PMS, break the OKR concept
Lack of integrations
No free trial
Hard to use
Few customizations option
Scattered UI 
Pricing 
Betterworks Team Edition: $8/user/month
Engage Team Edition: $2/user/month
Enterprise: Contact the sales team
Good For
250+ employee organization that carries out a worldwide KPIs/OKRs system to measure employee performance, and progress and track corporate goals.
ClickUp.com
ClickUp is an integrated product for your docs, goals, chats, tasks, and many more. It is one of the best OKR software where you can get access to products for automatic goal tracking, integrate your apps and you can set your goals. This one-stop platform for work management requires an affordable and powerful system.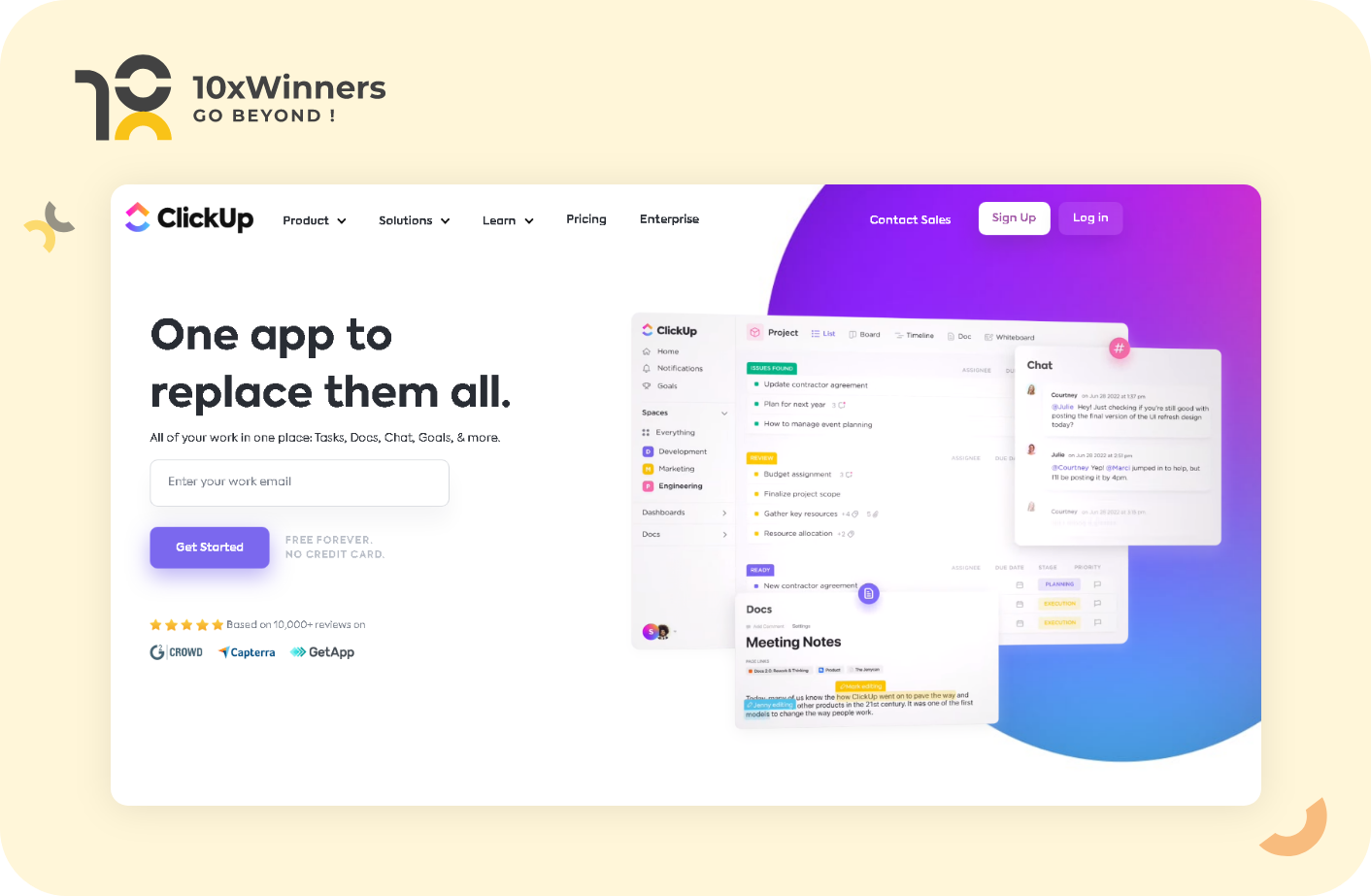 It aids team projects, and communications, and consolidates company and goals in a single place. Having easily customized options, the management software allows teams of all sizes and types to boost productivity to new levels and work more efficiently. This OKR software is a wonderful tool for departments that need to trace and share their OKRs with them.
Country of Origin
United States of America
Features 
Set your own goals
Automated tools for progress tracking
24/7 customer support
iOS and Android mobile applications
Client Portal
Gantt/Timeline View
Customizable Templates
Kanban Board
Billing & Invoicing
Idea Management
Pros  
Simple to use
A broad range of features
More uptime 
Cons 
No OKR feature in the free version.
A lot of data insights for managers
No clear OKR methodology definition
Pricing 
Unlimited: $5/member/month.
Business: $12/member/month.
Business Plus: $19/member/month.
Enterprise: Contact the sales team.
Good For
Small and large organizations with distributed teams and projects.
Devokr.net
Devokr is the recent generation OKR management software product that delivers businesses to trace OKRs with increased team collaboration. This provides a transparent system that enables the department to create an adjustment in the company. It is one of the best OKR software not only aids managers but is aligned inside the company to serve as a development product where performance can follow the individual growth plans for integrated system employees.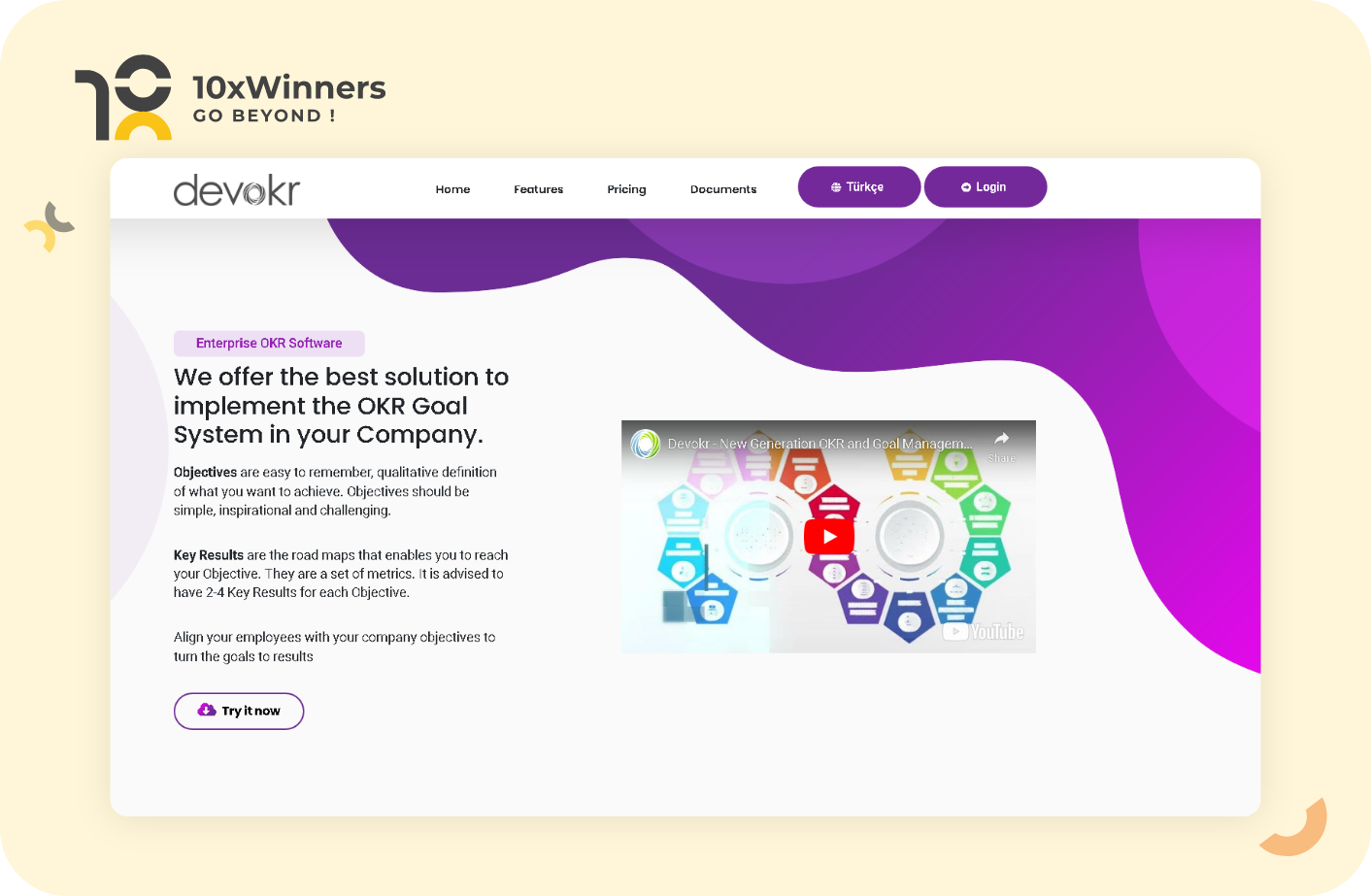 Having 1 to 1 meeting options and check-in screens, you can follow your OKR growth during the year and be adjusted with the company, and keep goals updated. In developing OKRs that sustain organization strategies, you can relate your goals with organization strategies and disseminate them during the organization. This software supports the continuous feedback methodology and develops this culture in the organization.
Like other successful applications, this OKR software will be the destiny of startup organizations to be successful when they develop their plans correctly. They enable the complete company to find its way in the light of these plans.
Country of Origin
Turkey 
Features 
360-degree feedback
Document storage
Activity dashboard
Employee management
Goal management
Feedback Management
Goal tracking and setting
Performance metrics 
Pros  
Performance management
Progress tracking
Notes and comments
Real-time reporting
Surveys and Feedback
Cons 
OKRs with PMS, break the OKR concept
Not suitable for all organization types 
Pricing 
Good For
Companies that aim to institute a dynamic and transparent OKR methodology.

Lattice.com
Lattice is a cloud-oriented performance management software for HR professionals throughout many industries. Enterprise corporations and businesses can tailor make the solution to fit their needs. Core practicalities involve goal management and performance review, and the tool can be used remotely through a mobile device.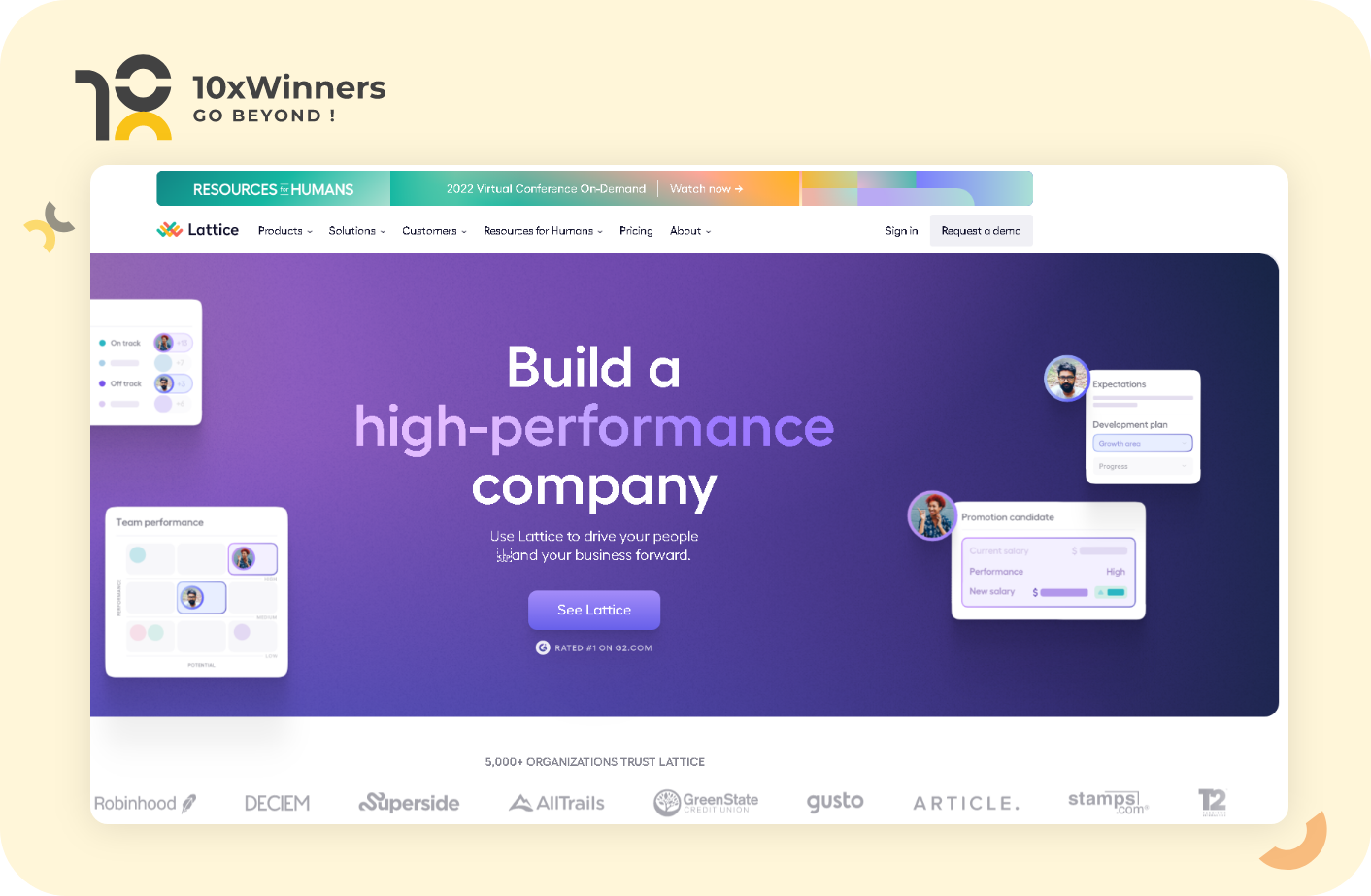 This OKR software lets users establish tasks for every employee and traces them until it's done. Departments can see the progress of the tasks via productivity graphs. Employee reviews are custom-made to measure objectives and the admin dashboard lets HR departments develop customized questions for performance reviews.
The product delivers fixed reminders to employees to complete performance reviews. Managers can set customized fields for performance analysis and the software product offers reporting characteristics that let users understand the employee review condition of the organization, teams, and individuals. Reports are saved for comparison and retroactive study.
Country of Origin
United States of America
Features 
Performance Management
Analytics and Reporting
Surveys and feedback
Progress Tracking
Performance review management
360-degree feedback
KPI Monitoring
HR Management
Self-Service Portal
Self-Assessment
Pros  
Pre-built templates
Promote employee performance with career options
Best for employee management and HR teams
Cons 
OKRs with PMS, break the OKR concept
Mixed ease-of-use reviews
Individual performance and OKR focused
The very expensive paid version
Pricing 
Engagement plan: $4/user/month
Grow plan: $4/user/month
PMS, OKR & Goals plan: $11/user/month
Multi-product & volume purchases: Contact the sales team
Good For
Organizations that require an advanced performance management product for their employees.
Mesh.ai
Mesh AI is a cloud-oriented employee programming platform for medium and small hospitals, clinics, and residences. The main feature of the product is the automated employee allocation for handling leaves. It lets businesses get employee requests like switching shifts and it delivers an in-built platform to enable communication between teams. This OKR software covers the scheduling requirements of physicians and healthcare staff with its socially brilliant staff anti-scheduler.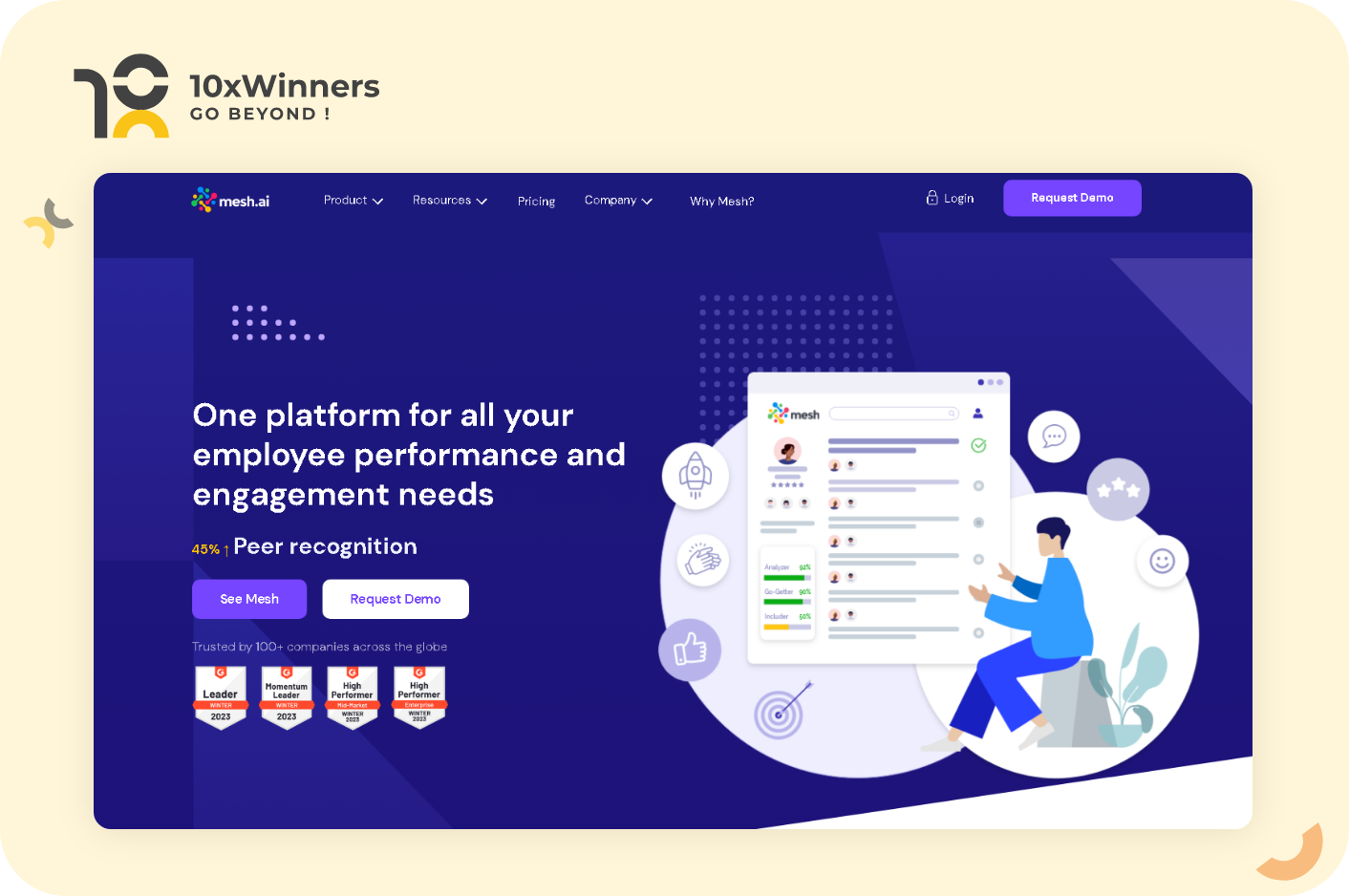 The smart suggestion feature helps users to adapt final minute alterations in the schedule when keeping the requester informed. This is one of the best OKR software that can be integrated with different calendar formats, and it offers a dashboard for switchboard operators that lets them view the contact details for call forwarding. Shift timings can be transferred for payment and payroll services.
Customized plans can be developed and shared for HR onboarding. Service is delivered on a monthly subscription and support is possible through the online ticketing system, live chat, email, and phone.
Country of Origin
Canada
Features 
One-click auto-scheduler
Suitable person finder
Easy trade shifts
Transparent process scheduling
Multi-location
Notifications & alerts
Pros  
Good calendar visual layout
Better bazaar feature
Weekly schedule reminders
Complex call schedule manager
Innovative scheduling
Cons 
Generates numerous emails
Difficult to communicate quickly
Difficulties in reading the calendar 
Pricing 
Base Plan:  $4/user/month
Premium Plan: $7/user/month
Enterprise Plan: $10 /user/month
Good For
Top-level organizations seeking efficient methods to handle employee performance and OKRs.
Monday.com 
On Monday.com, managers can handle their team aligned from single collaborative work. This OKR software lets you centralize your leverage native integrations, helpful widgets, third-party apps, and data. With an overview of all current tasks, you can immediately estimate the status of important work and follow up with applicable team members effectively.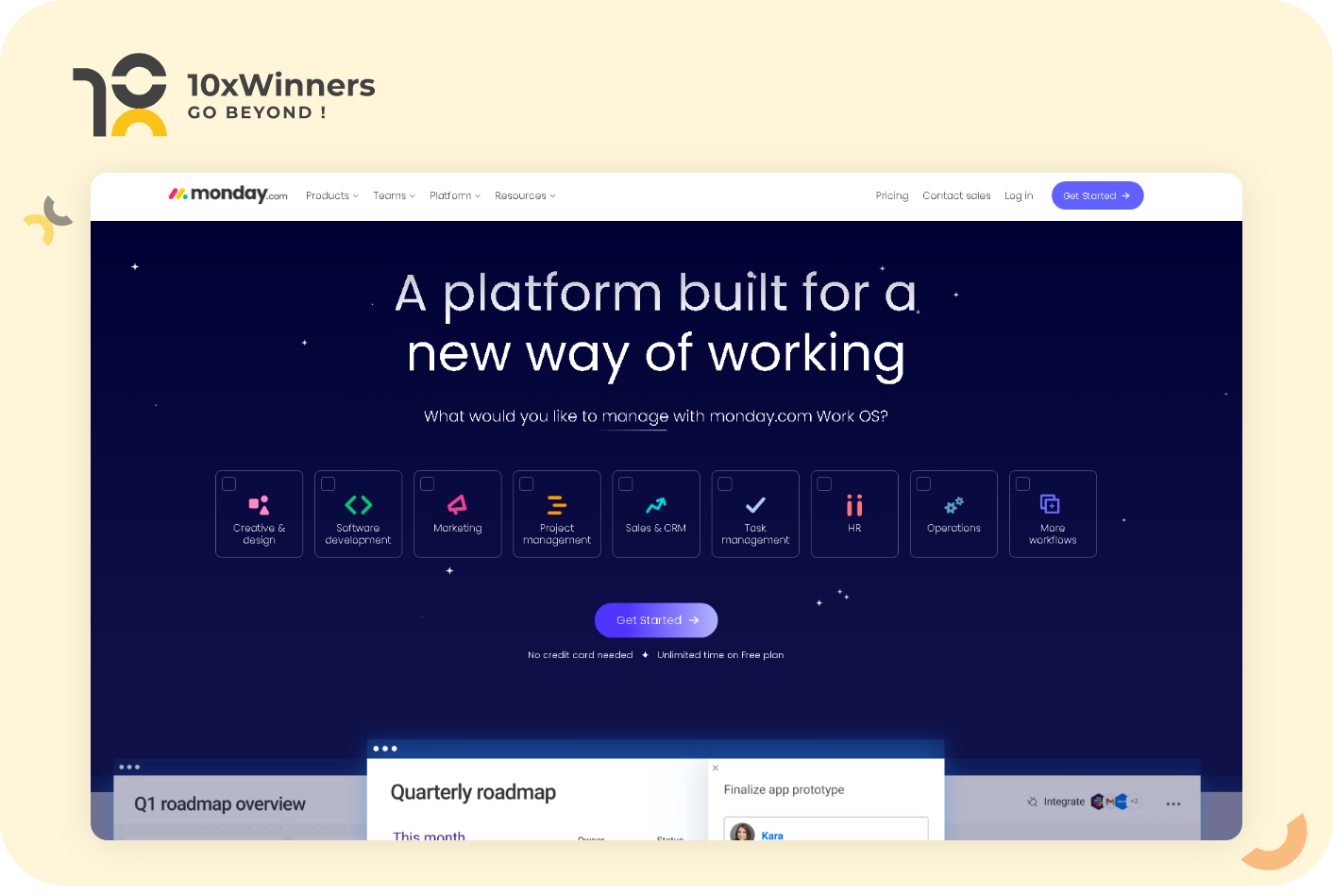 On Monday.com, employees have the flexibility to construct the right tools for their department by employing visceral drag-and-drop functions. Just choose one of the above 200 templates and customize them utilizing the 20 edited columns to hold any of your tasks. When your team develops, your workflows can also scale with you easily, authorizing your team to new levels with total visibility. 
Country of Origin
Israel 
Features
Attendance and time tracking
360-degree feedback
Employee database
Time-off Management
Leave and vacation tracking
Onboarding
Recruitment management
Compensation management
Self-service portal
Performance management 
Pros  
Presents project layout via dashboards
Facilitates flexibility in the project
Facilitates multiple tasks simultaneously
Easy-to-use interface
Facilitates the collaboration of global teams 
Cons 
Integration problems
Features absent in the basic plan 
Pricing 
Individual Plan:  $0 /user/month
Standard Plan: $10 /user/month
Pro plan: $16 /user/month
Enterprise Plan: Contact the sales team 
Good For
Multiple teams, small, large, and cross-functional organizations in a variety of industries in the world.
Peoplebox.ai
Peoplebox OKR software helps fast-developing organizations perform fast and build result-driven culture as they scale. It delivers one source of information about organizations' goals, initiatives, and strategies. It keeps them updated and aligned in real time with above 50+ native integrations.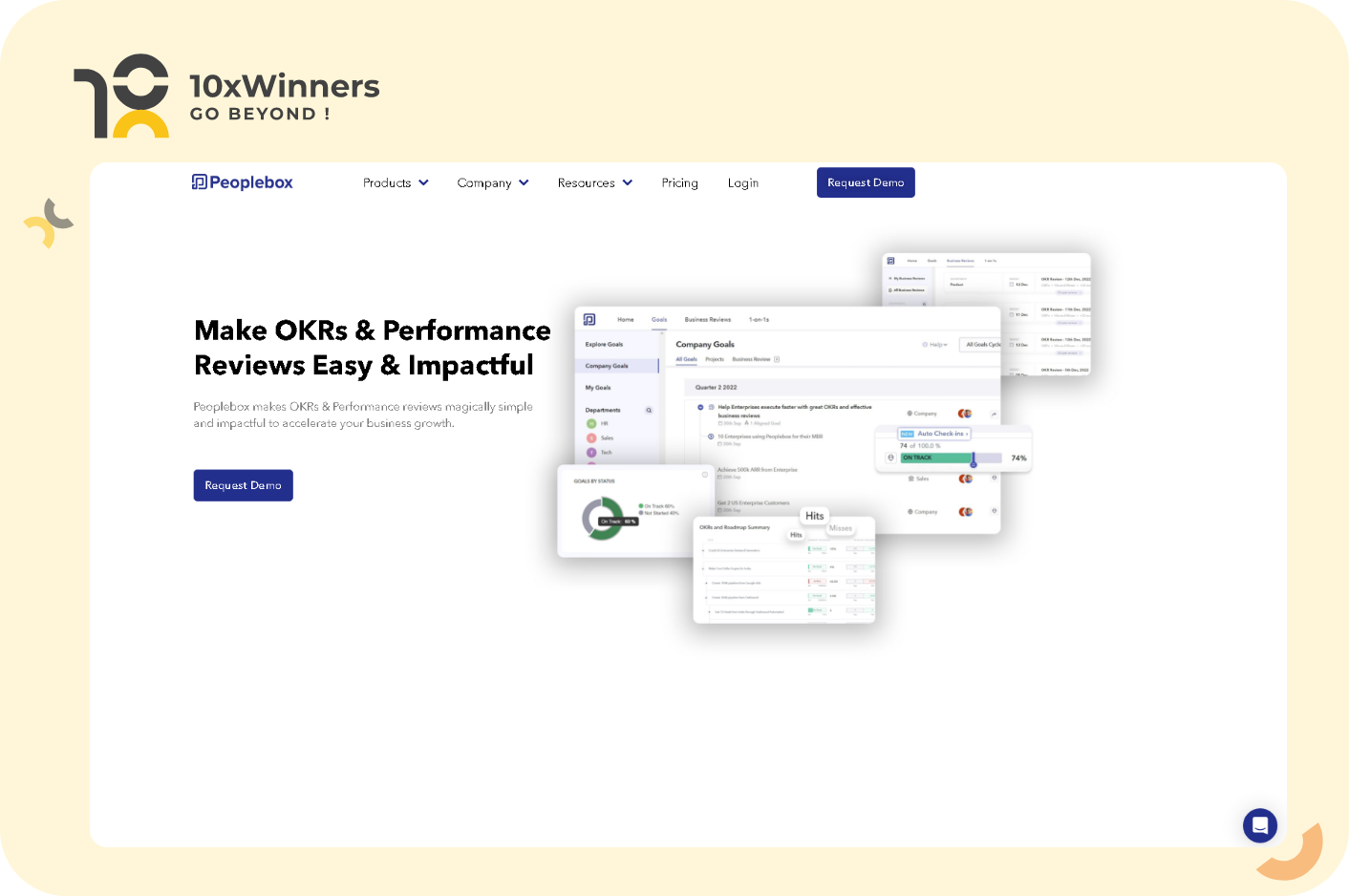 Peoplebox is one of the best OKR software that assists business owners to drive better alignment, visibility, and accountability, and focuses on their performance and accomplishing their goals. 
Country of Origin
United States of America 
Features 
KPI Monitoring
Goal Management
Performance management
Progress Tracking
Action management
Analytics & reporting
Question Library
Pulse surveys
Strategic planning
Surveys & Feedback 
Pros  
Guided questions for employees and managers
Automated syncing of OKRs
The really good polling feature 
Cons 
OKRs with PMS, break the OKR concept
Undefines admin responsibilities
Undeveloped management features 
Pricing
Engagement: $5 /user/month
OKR + Performance: $7 /user/month
All in one:$10 /user/month
Good For
Mid and large-sized organizations.

PeopleGoal.com
PeopleGoal is a cloud-oriented performance management OKR software for mid-sized and small organizations across various industries. It is configurated software that can be customized according to your needs. The main features involve check-ins, appraisals, 360-degree feedback, social recognition, performance reviews, and goal management. It lets managers form team objectives and align employees to organizational goals.
Using this best OKR software, HRs can view the goal development and develop performance reviews, check-ins, and customer feedback to measure employee performance and goal progress. The dashboards deliver a summary of individual progress, real-time reports, and goal completion reports that can be again divided by individual, team, and employee.
Country of Origin
United Kingdom 
Features 
Customized Dashboard
Progress Tracking
Strategic planning
KPI Monitoring
Goal management
Negative feedback management
Real-time updates
Real-time analytics
Employee management
Leave tracking 
Pros  
Complete visibility
Performance transformation
Excellent customer service
Customer-challenging design
Active people management 
Cons 
OKRs with PMS, break the OKR concept
No guidelines for first timers
Pricing 
The plan starts at $4/user/ month
Good For
Organizations are looking to specify their people's tasks from onboarding to offboarding by conveying the organization's culture and unique working method.
Perdoo.com
Perdoo is employed by future market owners to turn the strategy into solutions. You need to focus on the expert coaching and tools that provide it. Focusing on your tasks becomes hard as you scale on, but research reveals that more than 90% of employees don't learn the organization's strategy. Competition is more than ever before and making it difficult to differentiate.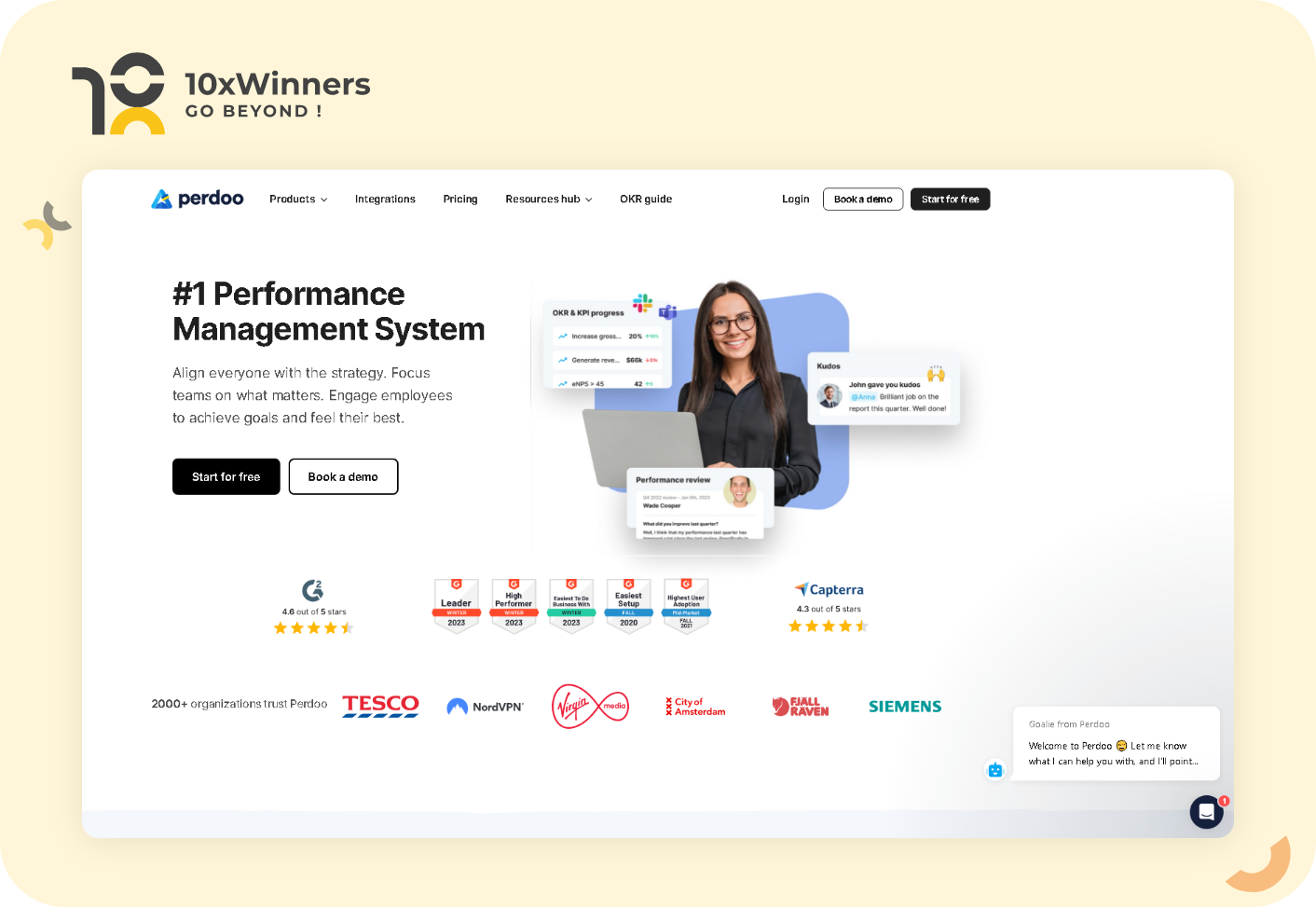 Using Perdoo OKR software, you can perform quickly and visually connect the goals with the strategy that will provide to make all work towards a similar goal. Expect challenges soon with robust reports driven by date goals. Track each department's KPIs and OKRs alongside each other for transparency throughout the business.
Country of Origin
Germany 
Features 
Dashboard
Tracking
Goal setting
KPI monitoring
Milestone tracking
Road-mapping
Scorecards 
Pros  
Built purposely for OKRs
Excellent customer support 
Cons 
Performance-based issues
Steep learning
Problems with tracking and reporting 
Pricing 
Pro: $6.50/user/month
Premium: $9.50/user/month
Supreme: $17/user/month 
Good For
Mid-sized and small companies throughout all industries and for future market owners.
Profit.co 
Profit.co is one of the best OKR software for enterprises integrated with employee development, employee engagement, and task management. You can make OKRs at all levels of your company while assuring complete alignment throughout your company. Get access to guidelines to make OKRs with real-time instances that assist see your OKRs. Plan and align OKRs at the start of the quarter and track your performance with weekly reviews and check-ins.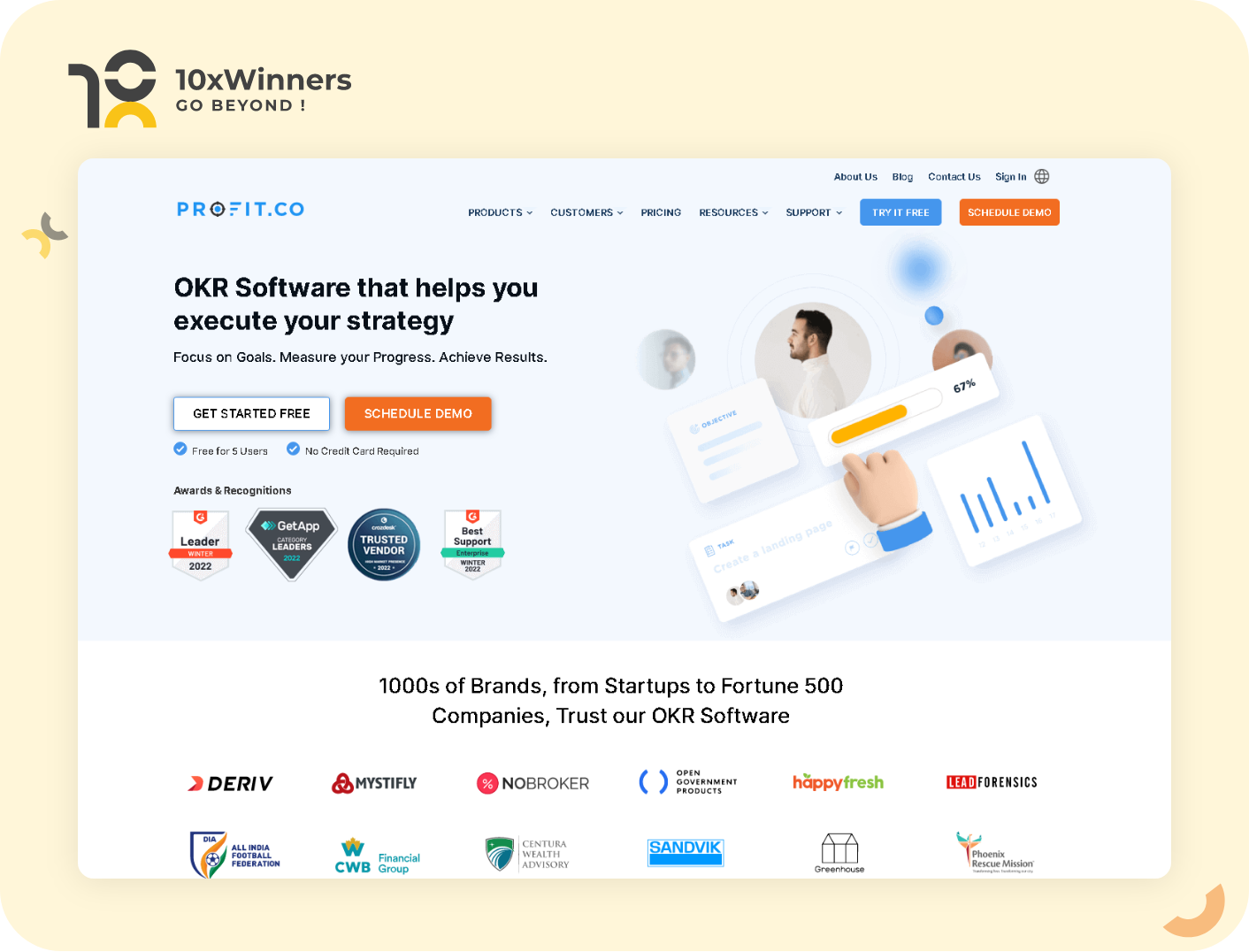 Use highly designed reset and reflect procedures for increasing organizational understanding and encourage larger levels of employee engagement employing our mixed features. As Profit.co is extremely customizable, companies of any size can begin with OKRs easily and with real-time dashboards and reports.
Managers can see the devilment of their departments and find out the potential issues early. This OKR software integrates with other top business software, and you can create your custom integrations employing the application's integration engine. Mobile applications for Windows, Android, and iOS devices are delivered that let users remotely handle their business functions.
Country of Origin
United States of America 
Features 
Performance management
Prioritization
Alerts and notifications
Strategic planning
Task progress tracking
Goal Management
Task scheduling
KPI monitoring
Self-service portal
Customizable templates 
Pros  
9% uptime guaranteed
Simple to use
24/7 customer service
Customizable tools
A free trial is available 
Cons 
More expensive
Bigger bugs occur
The unclear link between individual & company goals 
Pricing 
Growth: $7/month/user
Enterprise: Custom Pricing
Good For
Owners who use the OKR methodology to handle their businesses face unique experiences that integrate learning during performing their strategy.
Weekdone.com
Weekdone is one of the oldest and best OKR software in the OKR market. It is primarily appropriate for smaller organizations that do not have special demands for elevated functionalities. It is a wonderful tool for tracking and setting OKRs. It is a cloud-oriented OKR management application that assists you to accomplish your goals whether it is official or personal.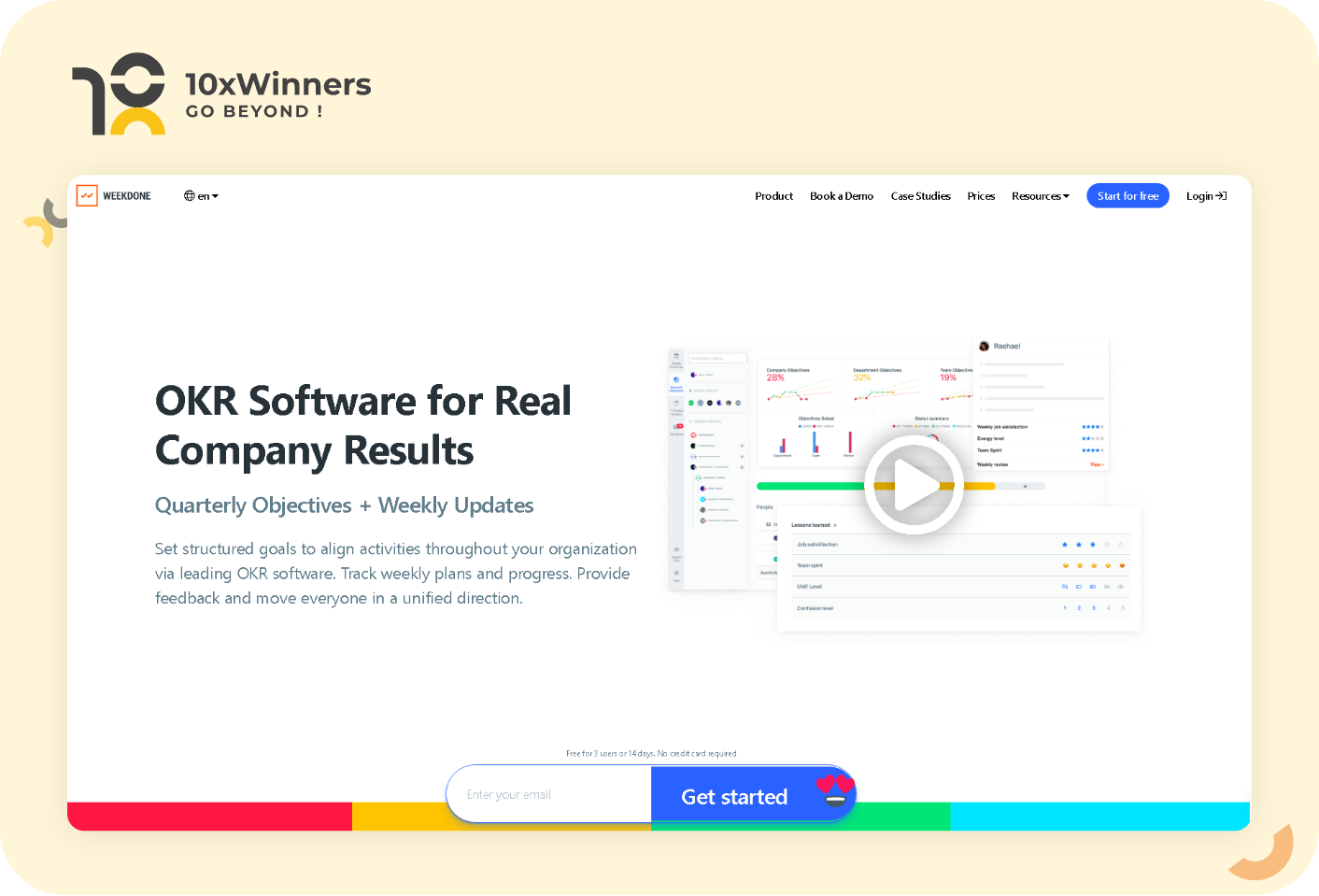 The latest UI and easy controls make it a better application to get started with OKRs soon. Weekdone delivers essential structure for teams to set and handle OKRs. This innovative product has an intuitive and simple interface so that it's simple to understand and utilize.
Country of Origin
Estonia 
Features 
Customizable Dashboard
Progress Tracking
KPI Monitoring
Goal Management
Simple Interface
Cloud Storage
Drag and drop functions
Powerful reporting tools
Team training tools
Intelligent project management tools 
Pros  
Easy to get started
Better for tracking and reporting
Variety of integrations
Personal coach
14 days trial
Cons 
Expensive
Key features are missing
Confused setup and usage
Not suited for large teams
Lack of technical support
Pricing 
Up to 10 Users: $90
Up to 50 Users: $350
Up to 100 Users: $600
Good For
Small and medium-sized organizations track OKRs and improve their collaboration. Also, it is best for startups that require a result-oriented company culture to employ OKRs.

OKRs are one of the most essential advanced solutions to become technically effective for today's organizations in this digital world. These OKR software tools can aid you to understand your organization's position when it comes to tracking and measuring the goals.
Modern features like AI, ease of use, interactive user interface, user-friendly options, customization, etc. make goal management planning and tracking simple for startups, and small, mid, and large-level organizations.
Thinking of buying the best OKR software for your company? Choose a suitable one from the above-mentioned 15 best OKR management applications.
If you want to be future-ready with AI intelligence and you are fine with getting the required integrations in the upcoming months, then 10xWinners OKR Software is the best option.
Other OKR Tracking & Goal Management Resources
Books:
"Measure What Matters: Online Tools for Understanding Customers, Social Media, Engagement, and Key Relationships" by Katie Delahaye Paine
"Radical Focus: Achieving Your Most Important Goals with Objectives and Key Results" by Christina Wodtke
"OKRs at the Center: How to Use Goals to Drive Strategy and Create Value" by Allan Kelly
Articles and Blogs:
Online Platforms and Tools:
Atiim: Offers OKR software and resources to help with goal setting and tracking.
Perdoo: Provides OKR software and resources for alignment and progress tracking.
Weekdone: Offers OKR software and templates for efficient goal setting and tracking.
Koan: Provides OKR software with coaching features and resources for continuous improvement.
Betterworks: Offers OKR software and resources for performance management and alignment.
Templates:
OKR Template from Atlassian
OKR Template from Weekdone
Online Courses and Training:
 OKR Masterclass: Offers in-depth training on OKR implementation and management.
Community Forums and Networks:
OKR Forum on Reddit
LinkedIn Groups focused on OKRs and goal management.